Making Life Skills In Your High School Homeschool A Priority
We leave in two weeks to take my oldest son to college.
Two weeks.
I have a lot of feelings about this (a lot of feelings).
As we have been working to prepare all the things for his dorm room, fill out the paperwork, pay all the bills, and register for classes, I have been impressed (relieved?) at how capable my son is with it all.
He negotiated the accommodations he needed – on his own. He set up a budget for the month, knowing he would need to carefully manage his work study income. He even worked through the class registration process and created a weekly block schedule to make sure he was organized and prepared to manage his time.
Studying Life Skills In Your High School Homeschool Is A Top Priority
I realize now, looking back, that the most important part of homeschooling high school was not what I thought it might be.
It wasn't the choices we made for math. It wasn't the endless amount of energy I spend worrying about his transcript. It was none of the things I expected. I believe one of the most important parts of homeschooling my son throughout high school was the emphasis we placed on learning and practicing life skills.
I know it can be overwhelming to know where to start. How does one begin to prepare their child for the "real world"? That's why I want to recommend getting a little help!
An Online Life Skills Course For Your High School Homeschool
Voyage is a life skills online course, from Thrive Academics, that prepares high school students for life after graduation.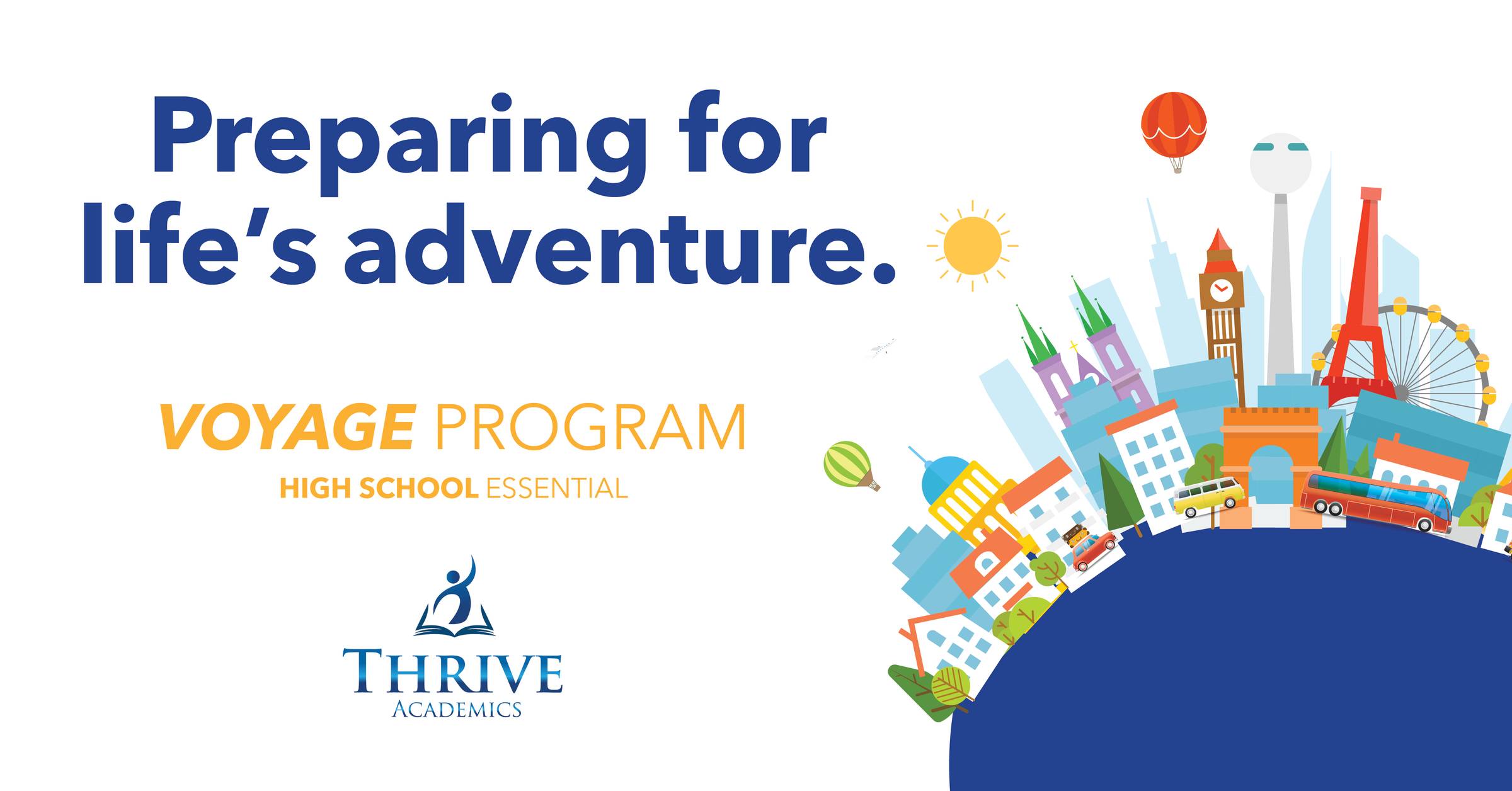 I love that students begin by learning about the bigger picture including:
Purpose
Strengths
Vision
Goal Setting
Then, learners begin to explore educational and career pathway options:
Community College/Traditional College/University
Tech School or Trade School
Educational paths
Career forecasts
Additionally, teens develop critical life prep skills for:
Financial responsibility
Independent living
(Voyage even offers a Free "Adulting" Checklist.)
I can't stress the value of this type of preparation and learning in our high school homeschools. In fact, my youngest is entering high school this year, just as his big brother heads off to college, and we will be using Voyage to support his learning and development in life skills.
I realize now, how valuable this study this really is in our homeschool.
I will be back in the next couple weeks to share more about my son's transition to college and away from our home (sob). In the meantime, I want to encourage you to take a look at all Voyage has to offer.
---
You have the opportunity to win a one year subscription to all five modules of Voyage!
Here's to entering the real world!
Shawna

Shawna Wingert is a former training and development professional turned education specialist, and has homeschooled her two children for the last ten years.Shawna has written four books about homeschooling unique learners and has been featured in homeschooling discussions on Today.com, The Mighty, Simple Homeschool, My Little Poppies and Raising Lifelong Leaners. 


You can find her online here at DifferentByDesignLearning.com.