Why We Use All About Reading With My Dyslexic Son
We began homeschooling my youngest son when he was in kindergarten.
He loved animals, getting messy and telling terrible jokes. (Five years later, he still does!)
Having him home was fun, for both of us, almost all the time.
The only exception was when it was time to practice phonics.
We tried every single program all the other homeschool moms used.
Easy lessons were anything but.
DVD instruction was fun, but didn't stick.
Online classrooms got his attention, but reading and even identifying all the letters and sounds, was just not happening.
Two years later, after so many tears and please pay attentions and why is he still struggling to spell his name, we learned he is profoundly dyslexic.
I wasn't the least bit surprised.
I was however, worried about how to best help him get the reading instruction he needs.
Please know, although I did receive my son's reading curriculum in exchange for this review, these opinions are 100% my own.
I read book after book and scoured the internet, looking for solutions that didn't involve twelve thousand dollar tutoring programs.
One morning, just a few days after learning about my son's learning differences, I came across a post about Marie Rippel.
Marie is a mom, just like me.
When her son was nine years old, she learned he was profoundly dyslexic. Moreover, she was told that he would never learn to read or spell.
She and her husband knew better. They knew it wasn't that their son didn't have the ability to read; he simply hadn't been given the right tools.
And thus, All About Reading and All About Spelling were born.
Based on her story alone, I ordered All About Reading right away.
It has made all the difference in how I teach and most importantly, how he is learning to read.
Here is why All About Reading works so well for us –
The recommended time for each day's lesson is only 20 minutes.
For my active boy, we break this up into two different reading lessons throughout the course of the day. What is great is the reassurance that an entire lesson, might take two days, or it might take two weeks. The goal is mastery. We usually progress through a lesson in about a week or so, depending on it's content. A friend of mine, easily completes a lesson every day or so with her little one. That's the beauty of it. The curriculum encourages each learner (and momma) to take the time they need to really understand and master the concept.
It is age appropriate.
Prior to starting All About Reading, my son was terribly frustrated over his reading materials looking like they "were made for preschoolers." It made him resistant to learn and practice, when he felt like the materials were not in line with his age and interests. One of the best parts of All About Reading, is that it is appropriate for all ages.
It is easy to teach.
I love that All About Reading allows me to just open the teachers manual and teach. Some Orton-Gillingham approaches are complicated – really complicated. All About Reading isn't. I feel confident teaching, even if I haven't had a ton of time to prepare. In our busy, day to day life, this is a significant benefit.
It is hands on and multi-sensory.
This is the best part for my son. He needs to move. He needs to have something in his hands in order to really grasp new learning. The All About Reading activity book is full of lessons that include sight, sound and touch. They are interesting and fun, even for a ten year old boy who would rather climb a tree than sit down for a reading lesson.
I am a huge believer in this program. For the past year, I have been posting pictures on Instagram of all the ways we incorporate All About Reading into our school day. Many of you have asked for more information. The good news is, it's a great time to learn more. The Level One program has just been updated to include even more hands-on activities, and stories for reading fluency.
If you are interested in giving All About Reading a try, know this. They stand by their product. Their reading and spelling programs all come with lifetime support (you can reach out at any time with questions) and a one-year, 100% money back guarantee. You literally have nothing to lose.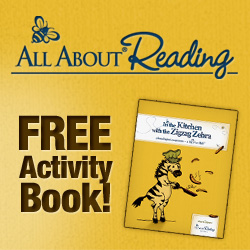 Shawna Wingert is a former training and development professional turned education specialist, and has homeschooled her two children for the last ten years.Shawna has written four books about homeschooling unique learners and has been featured in homeschooling discussions on Today.com, The Mighty, Simple Homeschool, My Little Poppies and Raising Lifelong Leaners. 


You can find her online here at DifferentByDesignLearning.com.